Casamatic is quickly expanding. Did you see we're now in Phoenix, Charlotte, Raleigh, Nashville, & Columbus? In turn, it felt like the right time to expand our team, as well. Meet our new web developer, Sarah Doczy.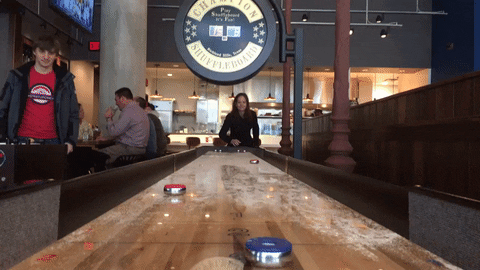 What's your job at Casamatic?
I help make the website function properly and look nice.
Tell us a bit about yourself.
I just came back to my home state of Ohio after spending 3 years in San Francisco. I love and will always miss SF, but it feels good to be back home. I have a beautiful daughter, an amazing husband, and a stinky, but adorable Boston Terrier.

I have a love of food, beer, and good wine.
What was your first job?
I was 14 and on the gymnastics team at the local YMCA. Once a week, I taught a tumbling class to 4-5 year olds. Thankfully, no one got hurt.
What is the best tool/app you use every day?
I love Podcasts. There are a lot of great ones out there. I find something new to listen to almost every day. I'm such a dork and listen to Javascript Jabbers all the time…

Check out a recent episode of JSJ Aurelia with Rob Eisenberg:

What are you listening to right now?
Kings of Leon Radio on Pandora.
What TV show do you want to be a part of?
I know this sounds crazy, but The Walking Dead! I'm a fan of Michonne. She's a badass!
If you won the lottery right now, say $1M, how would you spend it?
I would help out my loved ones by spreading some cheer their way. Then spend some time traveling the world. There are so many places that I can't wait to visit.
Office drink of choice?
Coffee and sparkling water.
Office snack of choice?
Trail mix.
What is a key feature of your dream home?
A good space to garden. To me, there is nothing like relaxing in my own back yard on a hot summer night while enjoying the space around me.
What is your 'best match' on Casamatic?
1958 Loma Linda Lane
This house has a huge kitchen space, which is key for someone like me who love to cook. I also love that it has an heated pool. I can see lots of pool parties in my future!